New current sense transformers for high-reliability equipment applications now available
Author:OMO Release Date: 2018年7月20日
---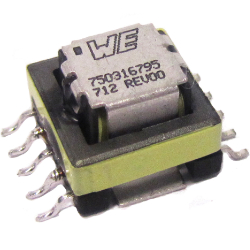 Wurth Electronics Midcom has released additional Current Sense transformers to the MID-SNS family.
These 40A MID-SNS transformers are constructed on a compact platform with a 14.48mm x 20.2mm footprint and low profile height of 10.5mm. These parts offer low primary DC resistance and meet 1500Vrms dielectric between the primary and secondary windings. These transformers have an operating temperature of -40C to 125C and are RoHS and REACH compliant.
"These surface mount transformers are designed to operate between 50khz to 500khz and sense up to 40A of current. The turns ratios offered are 1:50, 1:100, 1:150 and 1:200 with Inductances ranging from 1.4mH to 22.4mH. Compared to current sense resistors, these parts have much lower power dissipation and provide galvanic isolation." explained Swaroop Vaidyanath, Wurth Electronics Midcom's product manager.
These transformers are ideal for switch mode power supplies, feedback control, precise current measurement, circuit protection and monitoring, and high-reliability equipment applications.
---